Asphalt Sealcoating and Crackfilling
Asphalt Sealcoating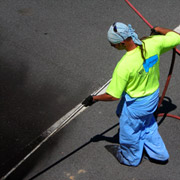 Asphalt sealcoating can be compared to the protective powers of an SPF moisturizer that you apply to your skin. It protects your asphalt surface in the following ways:
Shields against the drying action of the sun and ultraviolet rays.
Prevents water penetration.
Resists damage caused by gasoline and oil.
Bonds firmly to the surface to provide an even-textured, durable barrier
Restores that rich, black look of new pavement.
Our sealer is combined with latex and sand in a specified mix formula to guarantee a durable finish. The product is applied from agitated tanks via spray application to provide a smooth finish. Sealer applied near buildings, walkways and landscaping is hand-applied to protect these surfaces.
Crackfilling
The most important reason to address cracks in your asphalt surface is the damage that can be caused by water penetration and the vegetation that take advantage of these cracks. As vegetation takes root in the cracks in asphalt, the roots begin to grow and cause the crack to expand. When water penetrates the crack, it causes the ground underneath the asphalt to become soft and a pothole can form. If this moisture under the surface freezes, it can push the surface of the asphalt apart and create damage more quickly.
To treat these cracks, we begin by using a hot lance/compression system that burns vegetation and cleans the crack of debris. A special machine is used to apply a heated, rubberized component to fill the crack to prevent moisture and vegetation penetration. Because this crackfiller is rubberized, it can expand and contract with your asphalt to prevent further damage.
Asphalt Repair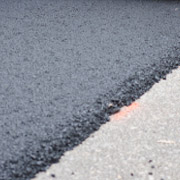 If the sub-base beneath the asphalt surface is compromised by water or excessive wear, the asphalt will begin to crack or "alligator" and will eventually form a pothole. The only way to truly remedy this problem is to repair the sub-base and make it strong again.
To accomplish this, we sawcut the area of damaged asphalt to create an even, finished look. The sub-base is recompacted and fortified with stone, and hot asphalt mix is reapplied in layers to provide a strong finished surface.
Contact us for a free estimate for your driveway, parking lot, or roadway!