Thermoplastic & Roadway Marking
Thermoplastic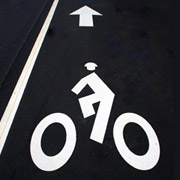 Thermoplastic pavement markings are a special blend of binders and resins that are in a liquid state when heated and in a hardened, glassy state when cooled. Thermoplastic can endure many cycles of heating and cooling without breakage, which makes them ideal for use in high traffic areas. Thermoplastic pavement markings are used primarily on roadways and in high- traffic areas of parking lots such as crosswalks, stop bars, and directional arrows.
New Dimensions has a thermoplastic detail rig with two melting units for white and yellow thermoplastic. The thermoplastic is dispensed into heated hand-liners that create an extruded application, and glass beads are dispensed on the surface of the molten thermoplastic to provide reflectivity.
Because we use thermoplastic hand-liners, we have more freedom for marking layout then could be attained by preform thermoplastics. It is also a more cost-effective method, which makes it more affordable for your budget.
Roadway Markings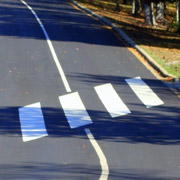 Roadway marking include any markings applied to the pavement such as paint, raised pavement markers and special pavement treatments. Markings have a definite and important function to perform in a proper scheme of traffic control. In some cases, they are used to supplement the regulations or warnings of other devices such as traffic signs and signals. They are also used alone and produce results that cannot be obtained by the use of any other device.
The most common method of placing pavement markings is by the use of paint. Pavement markings are typically yellow or white. Yellow lines delineate the separation of traffic flows in opposing directions or mark the left edge of a divided highway. White lines delineate the separation of traffic flows in the same direction or mark the right edgeline. Broken lines are permissive in character, and solid lines are restrictive in character.
New Dimensions uses a truck specially designed for these paint applications that meets State and Federal application standards. The glass bead dispenser is air-atomized for proper reflectivity, and all paint products used are designed specifically for the needs of high-traffic roadways.
Contact us for a free estimate for your driveway, parking lot, or roadway!